(cover design)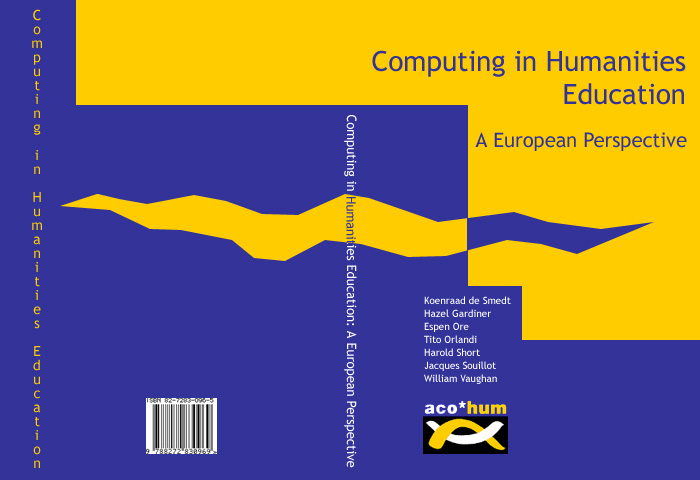 ---
(p. i, French title)
COMPUTING IN HUMANITIES EDUCATION
A EUROPEAN PERSPECTIVE
---
(p. ii, blank)
---
(p. iii, title)

COMPUTING IN HUMANITIES EDUCATION
A EUROPEAN PERSPECTIVE
Edited by
Koenraad de Smedt
Hazel Gardiner
Espen Ore
Tito Orlandi
Harold Short
Jacques Souillot
William Vaughan
SOCRATES/ERASMUS thematic network project on
Advanced Computing in the Humanities
University of Bergen



1999
---
(p. iv, colophon)
The publication of this book has been supported by DG XXII of the European Commission under financial agreement 26030-CP-3-98-1-NO-ERASMUS-ETN, by the Faculty of Arts and the HIT-centre at the University of Bergen, and by the universities with which the authors are affiliated.
Computing in Humanities Education: A European Perspective / Koenraad de Smedt, Hazel Gardiner, Espen Ore, Tito Orlandi, Harold Short, Jacques Souillot, William Vaughan (eds.)
Keywords: 1. Humanities computing 2. Humanities education
ISBN 82-7283-096-5
© 1999 The copyright of each chapter lies with its respective authors. All rights reserved.
Published by the University of Bergen, HIT-centre (http://www.hit.uib.no)
Printed in Norway by Bergen Trykk AS, Bergen
November 1999
---
(p. v - vi, contents)
Contents
---
(back cover)